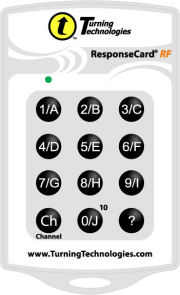 The ResponseCard RF (Radio Frequency) keypad takes advantage of the latest in audience response technology advancements. The ResponseCard RF keypad provides features and functionality that ensure responses from 10 to 1000's are accurately, timely and effortlessly transmitted to the presenter. Compact size and lightweight design ensures ease of system transportation whether it be from room to room or around the globe.
ResponseCard RF Specifications
– Lightweight, compact, grey credit card format.
– Dimensions: 3.3″ L x 2.1″ W x 0.3″ H.
– Weight: 1.0 oz (with batteries).
– Durable, rugged case ensures maximum longevity under extreme conditions.
User Input
– 12 key (1(A) – 10(J), Ch, ?).
– Answer Key – answer transmitted automatically.
Display
– Participants receive answer confirmation on their ResponseCard through two-way communication. Successful transmissions are acknowledged via green light signal.
Power & Power Management
– Powered by two coin cell CR2032 (3.0V) lithium batteries.
– Always in deep sleep mode – only uses power when a button is pressed.
RF Technology
– Up to 82 sessions can be running at one time in close proximity without interference.
– Fully FCC, CE and Industry Canada certified.
– Will not interfere with other technologies.
– Reliable and scalable.
– Not limited to line-of-sight transmission.
Range
– 200 foot range (400 ft coverage) with either an RF Receiver or a ResponseCard AnyWhere receiver.
Receiver Compatibility
– RF Receiver
– ResponseCard AnyWhere